COMMERCIAL LICENCE
PROVIDER IN THE UAE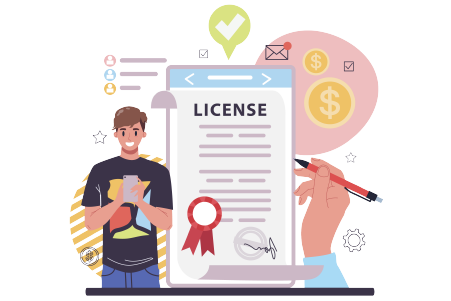 A Major Trade Authorization Mechanism for Setting up or Running a Business in UAE
Starting a business in the UAE requires a commercial license that allows an entity to operate and engage in financial dealings. This type of license is necessary for most businesses, and it's required before you start operating, whether at a small scale by selling goods or services to customers directly or through an agent, wholesale or retail.
An investor can lawfully buy and sell goods and services globally with an official commercial trade license. In Dubai, the Commercial License is the primary way to obtain legal permission to engage in commercial activity.
You can register your business with a commercial license in the Dubai Free Zone or any of the other free zones in the United Arab Emirates. The Free Zone authorities will accept either a Free Zone Company (FZC) or a Free Limited Liability Company (FZ-LLC) as the legal structure for your firm. One significant benefit of setting up business in a free zone is that you will have complete control over your firm. With the help of a commercial license, it is also possible to establish a limited liability company (LLC) in Dubai, United Arab Emirates.
The Documents Required for a Dubai Commercial License
The DED will provide your organization with a commercial license in Dubai based on the following list of valid documents. The initial term of the license is for one year, and subsequent terms can be renewed for up to five years. Following is a list of required documents for a commercial license in Dubai.
Consult with the ExpressPRO team of expert business advisors to learn more about the VAT Exemptions and regulatory compliance that investors must observe to set up business in DAFZA. We assist investors with all aspects of company formation in DAFZA, including but not limited to business registration, office space leasing, visa processing, chamber registration, value-added tax registration, and more.
Obtaining a Commercial License Required a Certain Procedure
It is important to remember that a business cannot acquire a commercial license in Dubai before the firm has been formally incorporated in the emirate. The following are the necessary procedures:
A Commercial License in Dubai Offers several Advantages
Establishing a business in Dubai requires a commercial license, but most international investors are unaware of the many benefits of having one. The advantages are numerous and include:
Commercial licensees in Dubai allow mainland-based business owners to expand their businesses and sell their products throughout the United Arab Emirates and beyond. The commercial license has several uses, but one less well-known is helping firms hire foreign workers by easing the process of obtaining work visas for overseas workers. The process of getting a commercial license is more straightforward than that of obtaining specific permits for different kinds of activities.
A Commercial License Allows a Variety of Business Activities
There are several types of business activities that are permitted under commercial license:
The Dubai Commercial License is required for all tourism businesses and foreign corporations with local branches operating in the emirate. Companies in Dubai that offer medical facilities and services are also included in the scope of the commercial license.
It is important to note that a Dubai company's commercial license is limited to ten operations. After the license has been issued, a company with less than 10 activities may add services or goods to its list.
Who is the best commercial licence agent in UAE?
The ideal business setup consultant takes into account your demands and your company's needs while advising you on its formation. At ExpressPRO, we collaborate closely with our in-house legal team to ensure that your whole business setup process is completed with complete transparency and legality. Because we recognize that the minor details make up the larger picture, we pay great attention to detail. We continue to help you on your journey beyond your business setup by providing low-cost bookkeeping, accounting, and auditing services. As a result, you may concentrate on what you do best: running your own business.
For more information and to speak to our business setup experts, please fill out the form below. We will get in touch with you shortly.